Featured Item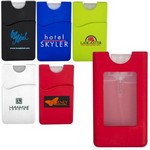 Silicone Wallet Sleeve w/Sanitizer - 0.6...
PP Plastic credit card-sized 0.67 oz. (20 Ml) antibacterial hand sanitizer spray in removable silicone sleeve with pocket for credit cards, transit cards and business cards. Features light citrus scen...
$2.35 - $2.99
Welcome!

Welcome to T.D. Graphics, Inc! Welcome to the Home Page for T.D. Graphics, Inc. Here you are able to search for all your promotional products. We hope you enjoy your search. Please feel free to contact us and we'll help you find the perfect product.